True that men's ruby rings are generally purchased to mark a special occasion. Having said that there is no reason why, you could not wear your ruby ring for men as a casual wear jewel. Ruby which like sapphire is a corundum (mineral) is rare, highly sought after and gorgeous. The demand for this red gem has never cooled down - the main reason why ruby commands a premium price. It might surprise many if we revealed that, the finest ruby gems could match the price of diamond! The good thing is that, with stringent quality standards from Kaisilver Thailand, men's rings with medium grade natural ruby gems, would fit a wide range of budgets. Having said that, we can procure and custom cut the finest ruby gems directly from the mines. Kaisilver ruby rings for men can be ordered in gold or silver, your designs or ours. Each ruby is inspected by our gem experts and certified for authenticity, by an independent gem testing office. Our experts at sales@kaisilver.com will be glad to help if, you have any questions related to gems and jewelry.
This fine ruby band ring for men can be customized, the size of the ruby gem in the center would define the width of the band. Good metal (gold or silver) weight for this men's band ring with ruby gemstone. A natural, certified ruby gemstone. Durable men's ring design, all gem options and all ring sizes available ... more.
A square ruby gem in the center with a diamond on either side. A gold or silver men's ruby ring with, the ruby gem firmly held and protected using, 'L' shaped prongs. The RG131 Kaisilver ring is expertly crafted by skilled artisans in Thailand, shipped across the globe. Learn more about the men's gemstone ring ... more.
Shown as a white gold ruby men's ring, the MAN141 ring from Kaisilver Thailand can be ordered in gold or 925 silver. No doubt that the awesome red color of this gemstone, pairs it well with all metal colors. Shown as a 14k gold ruby ring for men, the ring is available in 14k 10k or 18k gold, also in sterling silver ... more.
If you wish to go beyond wearing a men's gold or silver ruby gemstone ring and make, a strong statement of luxury and fashion the MAN122R ruby ring for men from Kaisilver Thailand, should be on the top of your list. A heavy ring, a handpicked certified ruby , a halo of glittering diamonds around the ruby ... more.
A heavy men's ring with ruby and diamond. If you wish to wear a big ring with good gold or silver weight, the MAN64R is the design to go for. The concept of this men's gemstone ruby ring, is suited for all gem options. Tough and durable the MAN64 ring with ruby, is crafted by expert artisans in Thailand, in all sizes ... more.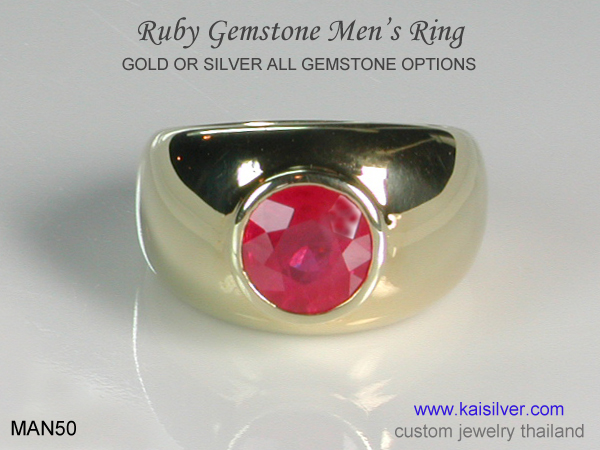 A 7mm round ruby gem for this ruby ring for men in gold or silver. Request for a price quote if you prefer to have the MAN50 ruby men's ring with an 8mm round or 9x7mm oval ruby gemstone. All ruby gems in Kaisilver rings are natural and certified for authenticity. Available as 10k, 18k, 14k ruby rings in all sizes ... more.
RUBY DURABILITY HARDNESS
There are a few strong reasons why ruby is suitable for men gemstone rings. A member of the corundum mineral family, ruby is tough and durable. Diamonds are the hardest known natural gems to be used in jewelry. Diamond is rated a whole 10 on the Mohs scale of hardness, used to measure the hardness of natural substances. Ruby and sapphire come a close second, touting a hardness rating of 9. While durable gems are an advantage for all types of jewelry, this is specially true for ruby gemstone rings for men. No denying the fact that, men do not take as much care of the jewelry that they wear as compared to women! Must mention that while gem durability does help in making a ring more durable, it is not the only factor that would influence the toughness and durability of a men's ruby gem ring for men.
RUBY SYMBOLISM BIRTHSTONE
We did mention that the desirability of ruby relates to its beauty, rarity and toughness. You would be seeing far more men's ruby rings if, the price of this precious red gem was more affordable. Any gem expert would tell you that, hoping to see a drop in the price of ruby is futile - the gem gets rarer and draws an increasing number of admirers. Ruby has been known to humans for centuries, must say that there was a time when all red gems were presumed to be ruby. Those were the days when gems were identified mainly on the basis of their color. A men's ruby ring in gold or silver, would have special meaning for men born in the month of July - this because ruby is listed as the birthstone for the month of July.
Not uncommon for men to wear the gemstone that, they believe symbolizes certain traits and virtues. Kaisilver does get a fairly large number of men's ruby gemstone ring orders each year. Our support team is often told by clients that, they wish to have a men's ring with ruby as they believe that, the gem symbolizes love, power and determination. A French stage artist once chose our ruby diamond ring saying that, it inspired him to perform better. When we relate men's ruby gemstone rings to these or other properties, we are in fact relating the gem to ancient beliefs and traditions.
You also have ruby listed on the anniversary gemstone charts. The gemstone marks the 40th anniversary. Being as gorgeous and historic as it is, you could order a ruby men's ring for yourself or someone special. There has been a growing trend in recent times to, gift jewelry on fathers day. If you happen to be looking for a special gift for dad, consider gifting a men's ring in gold or silver with ruby or sapphire. Remember that the jewel need not be extravagant, just a modestly budget jewel - our support team would be glad to help with advice and suggestions.
RUBY GEM QUALITY
Just to reconfirm, we are talking about a natural gemstone for men's ruby gemstone rings - this excludes imitations and lab created material. Important to remember that within the group of natural rubies, you would find a wide range of grades. At Kaisilver we begin at the middle to good grade level. Low grade natural rubies would be cheaper but, do not figure in the discussion on finely crafted ruby rings. And clarifying that even a silver men's ring with ruby from Kaisilver Thailand, will not include a low grade ruby gemstone. There are top grade ruby gems fully accessible to our team, you can request for specific price quotes if your budget permits. Back to medium and good grade ruby gems. Best explained by taking an example, if you were to see the price range for medium to good grade ruby gems - this for a 2 to 3 carat ruby gemstone - you could be talking about a price range of around $1,500 to $2,500 per carat. We obviously provide good value for your money since, we work directly with miners and do not operate with a chain of brokers and middlemen. Given our strict quality control checks, you would in most cases, be fine with a medium grade gem for your ruby men's ring. Should mention here that, the price per carat of a ruby gemstone, moves higher as the size of the gem increases.
Still on the topic of ruby gemstone quality. You might come across report saying that a Burma (Myanmar) ruby is better than a ruby gemstone from Mozambique or Thailand or from some other place. At the risk of displeasing a few jewelry commentators we should honestly state that, you will come across good and bad ruby gems from all mines! Rubies that are mined in Burma have a premium price tag, this no matter how included or dull they might be. Good grade Burmese rubies can cost anywhere from 30% to 50% more than their counterparts, from other locations. Detailed discussions would be beyond the scope of this report but, we have some constructive advice for you. When referring to the gemstone in a men's ruby gem ring, discuss your requirements with our team. Try to set up a few parameters related to color, clarity, gem size etc. We will understand that you need a natural ruby, so no confusion on that point. Review the suggestions made and give stress on origin (mine location) only if, you have some specific reason to do so. Simply put go for a ruby that looks good, within your budget.
A small note about one more factor that would affect the grade and value of a ruby gemstone. We will talk more about gem treatments in the next paragraph but, should provide a brief explanation here. Gem traders and cutters have known for over a century that, heating rubies and sapphires improves their color and clarity. This is a basic heat process that does not, make use of any chemicals or salts in the heating device. We will refer to this treatment as the 'old heat' process and it is fine if, the gemstone in a men's ring with ruby gem in silver or gold, includes a ruby gem that is heated (treated) by the old heat process. Gem experts agree that rubies treated through this process, do not lose their value or durability.
As time went by we say many more treatment types applied to ruby gems. Fair to say that most of these newer processes compromise the value and toughness of the ruby gemstone. The treated rubies that you should avoid the most are referred to as 'glass filled' or 'fissure filled' rubies. Highly fractured rubies are treated by the fissure filling process, this causes the cracks and holes in the gem to become filled with glass. These rubies might appear stunning to the casual gem lover but, they reduce the value and toughness of the gem to almost nothing. Discuss details with our experts at sales@kaisilver.com if you would like to learn more about ruby or gem treatments. The following paragraph has more details about ruby treatments.
RUBY TREATMENTS
A few technical terms in this paragraph but, you can ignore them if you happen to be ordering a men's gemstone ring with ruby from Kaisilver. We take care of all details and ensure that, ,you get the best material value for your jewel. We did mention that the old heat treatment for ruby, is accepted even by gem experts. Your men's ruby ring should ideally include an untreated gem or a gem treated by the old heat process. Pretty natural rubies that have not been treated in any way, attract a substantial price tag. The old heat treatment process improves the beauty of the ruby gemstone without, reducing its value or toughness.
If the jeweler that you pick your ruby ring for men from is honest, he would let you know if the ruby has been treated by the flux process. A simple explanation is that, this gem would be heated to cause the inner ruby material to melt - the molten ruby would then fill up fissures and cracks. Rubies treated in this process will need to be individually assessed by an expert, this to determine if any value has been lost by the process. Go for such ruby gems in your men's ring with ruby only if, you happen to be working with a jeweler that you really trust.
Fissure filled or glass filled rubies should ideally be referred to as composite gemstones. Very low grade rubies are treated by a process that, ends up filling cracks and gaps in gem with glass! These gems are very cheap and can damage very easily. There is absolutely no reason to go for such rubies when, buying ruby rings for men. If you happen to be on a tight budget, discuss your requirements with our support team and consider their suggestions.
RING METAL OPTIONS
Let's begin with the good news that, Kaisilver strongly disagrees with the notion that silver rings, cannot have the same superior standards as their gold or even platinum counterparts. Keeping that in mind, you can order a ruby ring for men in silver or gold. The same team of skilled artisans, gem cutters, designers and production experts in Thailand, work on men's ruby gemstone rings. So do not expect 'cheap' ruby rings to come from Kaisilver, we maintain the same premium standards related to gemstones, design, workmanship and quality control supervision - for both metals.
A ruby gold ring for men would generally be a 14k ruby ring. We recommend this as, 14k gold delivers the right combination of metal hardness and gold content. For those of you who wish to know of the complete set of gold options that we offer - you can select 10k, 14k or 18k gold rings for men, you also have a choice of a men's ruby ring for men in white, yellow or pink gold. The choice of gold color is a personal preference, no doubt that yellow or white ruby men's rings are seen more often - but for a rose (pink) gold ruby gemstone ring by all means if, you feel comfortable wearing it.
Interesting information related to men's silver gemstone rings with ruby in this paragraph. Begin by saying that, men in general seem to prefer the classic and confident look of sterling silver. While it is true that a men's ruby silver ring, would be priced more economically when compared to its gold counterpart - do not expect a good silver ruby ring with a natural certified ruby gemstone, to be 'cheap'. When it comes to fine jewelry, you pay for quality and cutting costs will result in a quality compromise. Any jewel on the Kaisilver websites, can be ordered in gold or silver with the gemstone of your choice.
Jewelers rarely explain the true characteristics of silver tarnish to buyers, so here is the truth. Tarnish is a natural occurrence, when it comes to silver - this is a discoloration that occurs on the surface of the metal. Cleaning tarnish just as it sets in is, the best way to ensure that it does not develop further and grown stubborn. Ruby rings for men in silver would tarnish so jewelers tell you that, plating the silver ruby gemstone ring would 'prevent' tarnish. While this is true the fact is that no plating done on silver, will last permanently. The plating will wear off over time, this will happen in the form of patches. Cleaning a tarnished ruby men's silver ring that was once plated, would be far tougher than cleaning a similar ring that was never plated to begin with.
Keep the above information in mind when considering a silver ruby ring for men. We will have no problem plating your men's silver ring but, that plating would not last forever too.
SUMMARY
Kaisilver men's ruby gemstone rings can be ordered in gold or silver. The design for your ruby ring can be yours or ours.
Ruby gems used in our rings are natural and certified for authenticity by an independent gem testing house. No middlemen and brokers, ensures that you get the best ruby gem at each price point.
We place no restriction on your choice of gemstones, the gem that you choose need not be restricted to what is shown or mentioned on our websites.
Gold and silver men's rings with ruby have the same premium standards. Gold ruby rings can be ordered in 10k, 14k or 18k gold. You also have a choice of yellow, pink or white gold men's gemstone rings.
When it comes to a men's ruby gem ring in silver, we recommend that the ring be left with no plating. We can however plate the ring if that is what you desire.
Kaisilver jewelry generally weighs around 40% to 50% more than, what other jewelers would offer for similar designs. This adds to the wearing comfort and durability of your men's ruby rings in gold or silver.
Each ruby men's ring is fully custom made, all design modification requests can be accommodated. We can even craft a unique jewel for you based on your own design concept.
HOW TO ORDER
To start with, we do not recommend that you be in a rush to order fine jewelry. This explains why we do not flaunt 'BUY NOW', 'EXPRESS CHECKOUT' and similar labels on our websites! Each ruby men's gemstone ring shown on this page, has a link to a complete report. Review details, dimensions, pricing and other options. The page will contain full information related to payment and ordering. We would suggest that you first discuss all your requirements with our experts at sales@kaisilver.com - ask as many questions as you wish, you are under no obligation to make a purchase. If you prefer to use one of our men's ring designs for your ruby gemstone ring for men, mention the design number and remember that, all design modification requests can be accommodated. And we also welcome your own design ideas to be custom made..
WHO IS KAISILVER
The leading online custom jewelry provider from Thailand, Kaisilver serves over 12,000 gem and jewelry lovers across 15 nations. We craft all types of jewelry including rings, pendants, bangles, bracelets, earrings and cufflinks in gold or silver. Both metal options have the same premium standards, there is no limitation on gem selection. The designs for your jewelry can be yours or ours. Contact us at sales@kaisilver.com if you have any questions related to gems and jewelry.
Thank you , thank you, thank you. I am very excited and overwhelmed to receive my ring and earrings. The ring is EXACTLY the same as the one that was stolen and I never thought I could replace it exactly, even to the spinal effect of the stones.It was very kind of you to take the trouble and time, and allow me to take the time to describe exactly what I wanted.The result is the ring is perfectly the same and the earrings match so well, just like the ones I lost. I do thank you so much. Your service and products have been excellent, and I would thoroughly recommend you to anyone. Reading the comments of other people you must be very pleased with the pleasure you give to your customers, when they receive your products. Please use me for publicity if you wish. Thank you also for your good wishes and blessing.Thank you and God bless ...... Patricia Dodd. more.