Silver And Gold Claddagh Rings
Many jewelry lovers have come across this ring - a fascinating piece with a heart, hands and crown but, never knew what the ring was called or symbolized. The four century old ring got a serious dose of international publicity when, Kaisilver artisans released the first collection of finely crafted claddagh rings in gold and sterling silver. The design of the Kaisilver claddagh ring was finalized after an in depth study that took several months. A team of experts spent a few months in Ireland, visiting national libraries and talking to esteemed professors in well known Irish universities. The idea was to comprehend the meaning, significance and tradition of one of history's, most meaningful jewels. A brief write up explaining the meaning of the claddagh is provided at the bottom of this report. The Kaisilver claddagh ring retains all the feature of the original ring, that was made about 4 centuries ago by an Irish fisherman turned slave. You can order a fine handcrafted gold or sterling silver ring for men or women, with the gemstone of your choice.
Heavy, sturdy and long lasting. One of the meaningful jewels in history the claddagh ring, signifies love, loyalty and togetherness. Kaisilver men's claddagh rings are crafted by skilled artisans in Thailand. The ring is available with or without a gemstone. Custom made in gold and sterling silver, all size options ... more.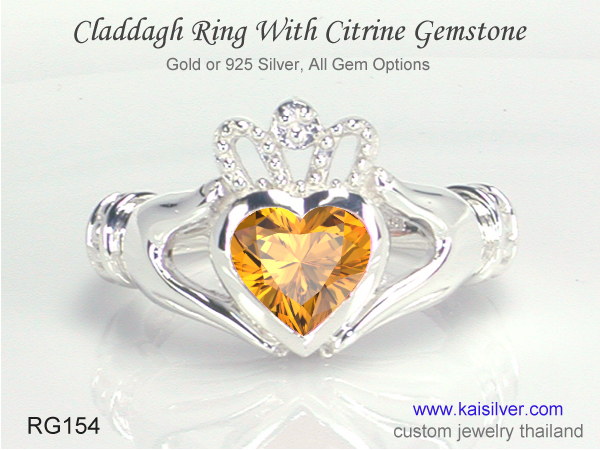 The claddagh ring is a perfect example of a ring that would be awesome in gold or silver. Shown as a 925 silver claddagh ring with citrine, the RG152 can be ordered in all sizes, gold or 925 silver with no limitation on gem selection. Citrine the birthstone for November, symbolizes brightness and wealth ... more.
A sturdy green gemstone tourmaline looks awesome in the gold or sterling silver claddaugh ring. The ring can be ordered with a pink or green tourmaline gemstone - we place absolutely no restriction on your choice of gems, so let us know your choice. Same superior standards for the gold or silver ring ... more.
Highlights Of Kaisilver Claddagh Rings:
Both gold and 925 silver claddagh rings are handcrafts by skilled artisans.
Each ring retains the complete meaning and significance of the original ring.
Can be crafted with or without a gemstone, all gem options are available.
Kaisilver claddagh rings are crafted for both men and women.
The claddagh ring is suitable for all occasions.
The ring symbolizes love (heart), togetherness (hands) and loyalty (crown).
You can request for a claddagh ring with 3 diamonds in the crown.
All Kaisilver claddagh rings look awesome and have inbuilt features to ensure durability.
Story Of The Claddagh: We will provide a brief summary of the claddagh story here and you can always review the more detailed Kaisilver Report - Claddagh Meaning and Significance, to get an in depth review. The claddagh ring gets its name from a small fishing village (now a modern town) in Ireland. About four centuries ago a young fisherman named Robert Joyce lived in the village, the young man was in love with a young lady from the same village. Fishing on the high seas one day the young man had a terribly unfortunate experience. The boat that Robert and his co-fishermen were sailing in was attacked by pirates. After looting their belongings, the pirates sold the captives as slaves. Robert Joyce was sold to a wealthy goldsmith and was soon learning the trade from his master. While the hardship of slavery was something that he could tolerate, the thought of being separated from his beloved tormented young Robert. The only thought that kept him going was the dream that, he would one day be free and reunite with the woman that he truly loved. It was then that he decided to do something that would express his true feelings for her. He decided to make a ring for her with features that, would show his true feelings. Years later Robert Joyce was freed from slavery and rushed back to his village making sure that, the ring was always secure with him. On reaching the village, he was thrilled to see that his beloved was still waiting for him after all those years. The couple embraced and Robert soon proposed to her with the ring that he had so meticulously crafted. A few months later, the couple was married and lived happily ever after. News of the touching story spread through the village, the unique features of the ring became known. Some even referred to it as the 'hands, heart and crown' ring or the 'hands clutching the heart' ring. The ring soon came to be named after the small village - this is the story of the claddagh ring. It took historians almost a century to truly understand the ring and interpret the meaning of the unique features. The heart in the center signifies love, the crown denotes loyalty (to each other) and the hands are stretched out in togetherness.
A team of Kaisilver experts spend a few months in Ireland talking to professors of history and antique jewelry experts. This ensured that every handcrafted Kai Silver claddagh ring retains the entire meaning and all the features of the first ring made centuries ago.
How To Order: If you wish to buy a claddagh ring or any other jewel from Kaisilver, discuss your requirements with our experts at sales@kaisilver.com Do not be in a rush to confirm your order. We can work with a design provided by you and also accommodate, all requests for design modifications on our jewels. There is no limitation on gem selection and the same, fine quality standards are maintained for gold and sterling silver jewelry. Once you have all the information that you need from the support experts, move to the stage of confirming the order with payment. Since each jewel is fully handcrafted by expert artisans in Thailand, there is a 4 to 5 week production period - this from the date of order confirmation and receipt of payment. You can pay through our recommended mode of Paypal as it is safer for you and us. We will accept Western Union Money Transfers if that is what you prefer but, find it more suited for repeat buyers. The payment details will be emailed to you once we know your preference.
Who Is Kaisilver: The leading online high end custom jewelry provider from Thailand, Kaisilver is proud to have a satisfied base of over 12,000 clients from 15 nations. We craft all types of jewelry in gold or silver, the design can be picked from our websites or provided by you. A team of expert Thai artisans work on all jewelry orders. Our quality standards confirm to the best in the industry. Each piece is inspected at every stage of production, this ensures that corrections (if any) are made right away without pushing the piece to the next stage. A global gemstone network consisting of leading mine and cutting operators, provide us with preferential access to over 200 million carats of gemstones. This is precisely why, your gem selection need not be limited to what is shown on our website. The team at sales@kaisilver.com will be glad to assist with any questions or requirements that you might have.