Finely Handcrafted Silver Rings
A collection of high quality silver rings from Kaisilver, each ring is handcrafted in Thailand by very skilled artisans. Each gem is handpicked by experts and inspected multiple times to ensure that, you get the best gemstone at each price point. All silver rings are left un-plated but, you can specifically request for plating to be done on your rings. The idea is that all plating on silver will wear off after a while. Cleaning or polishing the silver ring at that point, would pose a significant challenge. We therefore suggest that you leave your silver ring un-plated and clean it, at the first sign of tarnish. Contact our support experts at sales@kaisilver.com if you need any further information or clarifications. We can also custom make gold or silver ring for you, based on your design specifications.
A classic heart ring in sterling silver, the center gem is shown with an 8mm heart citrine gemstone in the center. The ring is available with the following gem options - blue topaz, citrine, red garnet, black onyx, peridot, amethyst. Ring sizes range from 6 to 9 US. Price US$ 200 + $15 shipping. A sturdy and durable ring.
A majestic silver garnet ring, a range of gem options include amethyst, citrine, blue topaz, black onyx, peridot, garnet. The center gem is an 10x8mm oval gem, ring sizes available range from 6 to 9 US. The classy look of this silver ring is paired with fine workmanship and a sturdy construction. Price $200 + $15 shipping.
Another scintillating silver gemstone ring, two gemstones of your choice. The ring is shown with an 8mm heart garnet gemstone and a 10x8 oval citrine gem. Gem options include citrine, red garnet, black onxy, blue topaz, amethyst, peridot. All gem combinations. Sizes from 6 to 9 US. Classic design. Price US$ 225 + $15 shipping.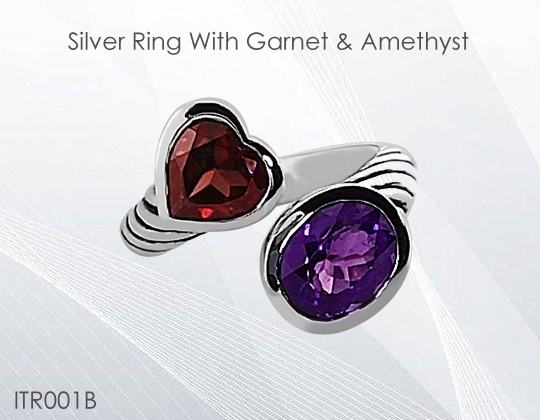 A fine sterling silver ring shown with am 8mm heart garnet and 10x8mm oval amethyst gemstone. You can choose from any of these gem combinations - citrine, amethyst, red garnet, black onyx, blue topaz, peridot. US ring sizes 6 to 9 available. The ring is designed for daily wear and is priced at just US$225 + $15 for shipping.
How To Order: If you are interested in any of the above rings or wish to have any custom jewelry crafted, email our experts at sales@kaisilver.com - provide complete details of your requirements including the item number, metal (gold or silver) option and the gem selected. While the above silver rings have a set of gemstones mentioned in the description, you could request for any gem of your choice. Our support team will provide specific price quotes for, details that go beyond what is mentioned on this webpage.
If the item that you choose happens to be in the production line, shipping will happen within 7 to 10 days after, order confirmation and receipt of payment. For orders that are yet to enter the production line, expect a 3 to 4 week shipping timeframe. You will be informed about time schedules before, the order confirmation and payment stage. Each jewel is meticulously handcrafted by skilled Thai artisans, we do not mass produce merchandise. It is important to understand that Kaisilver jewelry whether ordered in gold or silver, maintains the same superior standards.
We accept payment through Paypal, Bank Transfers or Western Union but, recommend Paypal for first time buyers. Let us know which mode of payment suits you and we will provide details for the same. Please do not mention credit card details in any communication with us as, we do not process payments directly - this to keep you and us safe!
Who Is Kaisilver: